June 2000 Cozumel Trip Report
Text and images Copyright (C) 2000 David M. Read
All pictures are hyperlinks. Click on any picture to see a larger version. There are more pictures than I could use; you can see the others in this trip's Photo Gallery.
---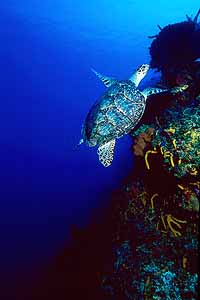 A hawksbill turtle cruises Columbia Deep.
"If we didn't have bad luck, we wouldn't have any luck at all." That's what my mother said to me one night while my uncle and grandfather were beating the daylights out of us in a card game. It's also how I felt during most of this dive trip. As usual, going to Cozumel was fun and entertaining. This trip, however, was also fraught with minor annoyances from the get-go. It seemed that everything that could have gone wrong did go wrong...but we put on a game face and steamed ahead.
Getting There
Getting there was the easiest part this time. We flew Champion Air (through adventure tours), nonstop from Austin to Cozumel. 12:30 departure, 2:45 arrival in CZM. I have nothing but nice things to say about Champion. They were efficient, friendly, and didn't give me any grief about the baggage count, weight, or contents. On the return leg, we had lost our tickets due to an overzealous cleaning crew at the place we stayed (one of the many annoyances of our trip), and the Champion people checked our IDs and waved us through, no problem.
Accomodations
We went to Cozumel with a large group of friends, and rented a villa for the week, namely Castillo Del Rey. The Castillo was fantastic, with 4 bedrooms, an absolutely giant (and beautiful) kitchen, and spacious living & dining areas. It also had a small but immaculate swimming pool, an enclosed courtyard / garden area, central A/C (yes!), and all the amenities you could want. One of the best things about the Castillo was its location, on Avenida 10 between Calle 7 and Calle 9...That puts it walking distance from the plaza, the most dive shops, restaurants, the supermarket (Chedraui), etc. All in all, a great location.
We also stayed one night at Amigo's B&B due to our flight schedule differing from the Castillo's schedule by one day. Amigo's was a great place, too, but we thought the Castillo was King. For the money, though ($45/night), Amigo's is hard to beat!
Restaurants
Mostly we ate at the Castillo, because we had arranged for a cook. But we ate out a few meals, and mostly ate well. We had one dinner at La Choza, which was great, one at Pancho's Backyard (also excellent), and assorted lunches & snacks around town. Guido's (formerly Pizza Rolandi) is now on my list of places to avoid (truly awful pizza), but Palmeras was decent. But the shining star of Cozumel food is definitely La Cocay. Anne and I went there for dinner on Thursday night, and were completely blown away by the food. We got there at 4:30, not knowing they didn't open until 6:30. We talked with a waiter, who put us in for a reservation at 6:30...and then offered to set up a table for us on the patio so we could have drinks while we waited. It turns out that he was actually one of the chefs (the chef?), and he brought out a small plate of appetizers and a glass of wine for me. He checked on us from time to time, telling us of his world travels & what not...I was amazed that someone so young (24? 25?) could have traveled so much. Anyway, at 5:30 he told us he was ready to cook, and took an order. In retrospect, I think the chef recognized that our 7-month-old son was likely to be an annoyance to other diners, and the easiest solution was to let us eat in private, early. Either way, we truly appreciated his efforts, and have a great meal.
We ordered "french toast stuffed with brie and pears" (marvelous, but light on the brie), "smoked salmon bisque" (outstanding), a "vegetable cobbler" (strange, heavy, and flavorful, but excellent), and I had a pan seared filet mignon (truly awesome). The final tab was $58, which was totally in scale with what we had. Luckily, we knew about the "cash only" requirement! I'd go back to La Cocay any day (unless I was on a budget!).
The Dive Operation
We dove with Aldora Divers, an outfit we have used before. We went back to them mostly because we loved the divemaster from our previous dives with Aldora, namely Oracio. We had a group of 6 divers, which Aldora assured us would result in getting our own boat, along with Oracio. When we arrived in Cozumel and checked in with Aldora, though, we discovered that we couldn't dive with Oracio...because Oracio had quit Aldora 5 days beforehand. :( This marked the start of our bad luck on this trip. I later learned that Oracio and Arturo (another Aldora DM) had quit Aldora in protest over some disagreement with Aldora's owner, and are now working with Blue Bubble.
Next in the bad luck line was when we turned over our regulators for Aldora to refit with DIN fittings. My buddy Scott had just bought a brand-new Atomic B1/Ti2 regulator for this trip. When he handed it to the Aldora rep, they told us that they did not have the DIN adaptors for Atomic regulators, so he couldn't use the Atomic reg. Luckily, Scott had brought along a "shop" regulator from the shop where we teach, so he was still able to dive.
I have to say that this trip with Aldora did not leave me with the warm fuzzy feeling that I got from my previous trip with them. First off, I have come to the conclusion that the DIN thing is just a real PITA. There's no real reason to use DIN fittings (the highest fill I saw was 3350 psi), and the overhead in time & hassle is unpleasant. Next up, Aldora's 7:30 departures are also a real PITA, especially because we showed up at 7:30 every day, and left no earlier than 7:45--and that was just one day! The other 4 days saw depature times more like 7:50 or even 8:00. Getting up at 6:30 while on vacation is bad enough, but standing on the dock for 30 minutes while the crew loads tanks, gasoline, and gear is even worse. The next part sounds petty, but I'll say it anyway: Aldora's boats go to Playa Sol for the surface interval / snack. That place just plain sucks. They're very expensive ($6.50 for a burger), the food is absolutely rotten (one burger was so bad I could not eat it), and they cater to the boozed-up snorkel boats, which means LOUD music & drinking games. All in all, I'd just as soon never go back there. But clearly Aldora has cut some sort of deal with this place, because when I expressed a preference for another beach--Natchicoco (sp?)--I was totally blown off by the crew.
On the plus side, our DM for 4 of the 5 days was excellent. We did most of our diving with Jorge (not Marin; the other one), and had a great time. Jorge was sociable, outgoing, and really knew how to find little critters. Pipehorses, pipefish, nudibranchs, etc.: you name it, he found it. I'd dive with Jorge any day. Aldora was also really understanding about some of our scheduling antics. I think the whole group showed up to dive on only two of the five dive days. There was always something keeping one or more of our group from diving, and Aldora generally didn't give us any grief about it--although they did charge us full price for some of the absences (understandable).
The Diving
The diving was excellent. The vis typically ran around 80 to 100 feet, but never much better. Currents were mostly mild, and water temps ran in the 83° F range.
One of the things that made the diving so good was the reappearance of groupers! We saw many grouper on this trip, including several monsters. On our trip in February, I was suprised that I saw none. This time we saw so many that I stopped counting.
We also saw a ton of hawksbill turtles, which I was told were in mating season. One dive yielded 5 or 6 turtles, and we saw at least 20 over the week. We also saw a blacktip shark at Maracaibo Shallow, which was refreshing. All in all, it looks like Cozumel's reefs are in good shape!
Photography was a little difficult this time around, as yet another one of this trip's bad luck events happened in the photo arena. Specifically, I bought a new Pelican 1650 case just before this trip, and when I moved everything from the old case to the new one, I forgot to transfer the viewfinder adaptor for the camera. This little lens screws into the viewfinder on the camera, and makes it possible to see the whole viewfinder, even from ~2 inches away. When diving, the distance between your eyes & your mask can prevent seeing the whole viewfinder, and this gizmo fixes that...unless you forget to bring it, of course. So I shot the whole week only being able to see the middle third of the viewfinder. What a pain.
We didn't do a night dive on this trip, because my buddy Scott came down with an fungal ear infection. The infection ended up costing him two days of diving plus the night dive. Did I mention we had bad luck on this trip?
We also had equipment problems. As mentioned before, Aldora did not have a DIN fitting for Scott's Atomic regulator. Then on day 2 my regulator started free-flowing. I switched to Scott's rig for day 3 (he was out with that ear problem), and took my reg over to Cozumel's equipment repair place (across the street from Aldora on Calle 5). Javier discovered IP from the first stage at 200+ psi, and then discovered water in the first stage. He gave it a 30-minute overhaul, and it was good to go. It turns out that when I had the reg serviced (just before the trip), the tech failed to tighten down the set screw that prevents the case from moving farther in...so when Aldora fitted my reg with the DIN fitting, they must have inadvertently tightened down the case...which ran up the IP in the first stage. It's not really their fault, since the set screw should have prevented the case from moving...Just more bad luck.
Dive Log Excerpts

A reef scene from Palancar Bricks

Dive #1: Palancar Bricks — Generally not a captivating dive, but fun. Great terrain, but for some reason a shortage of the giant sea fans I associate with the name Palancar. I saw the largest black grouper I have ever seen in my life --at least 4 feet long! The highlight of the dive was 2 pipehorses Alejandra found in one of the channels.

Dive #2: Santa Rosa — A great dive as #2, shallow and near the shoulder of the wall. There's plenty of life, including a giant grouper, a pipefish, and lots of juvenile fish. Santa Rosa also has some interesting terrain, with cool coral overhangs and small swimthroughs.
Dive #3: Columbia Deep — Fantastic dive. Columbia is my #1 favorite dive on Coz. The dive started out right, with a friendly turtle at ~90 feet. Then we checked out a bunch of swimthroughs, going up & down repeatedly and checking out the hordes of glassy sweepers in the recesses. More groupers, plenty of lobsters, and 2 giant supermale rainbow parrotfish with big algae beards. I found a dive light lying on the reef while coming out of one of the swimthroughs.

Dive #4: Paso Del Cedral — Started dull, ended great. Lots and lots of huge groupers, both black and tiger. Lobsters, big crabs, and a fantastic long tunnel at the end of the dive. Also saw a huge green moray, a juvenile queen angel, several cherubfish, a black margate, a puddingwife, 2 tiny nudibranchs, and a tiny spotted moray.


A chub swims through my picture at Paso Del Cedral.

Palancar Caves

Dive #5: Palancar Caves — Another fine dive at another fine dive site. We saw turtles, plenty of fish, sea fans, swimthroughs, and whip coral. Lots of up-n-down, round-n-round, etc. I saw a huge (~6 foot) green moray. Jorge found some more pipehorses.

The end of the dive was fun, too. We saw a shy hamlet (Humann says "rare"), a juvenile spotted drum, and more puddingwifes. The last sight of the dive was a small (~8 inches across) yellow stingray.

Dive #6: Punta Tunich — Blazing current set the pace for this flyby of a dive. Turtles provided the spice, putting in appearances early and often—at least 5 over the span of the dive. Lots of small stuff, too. More spotted drum, more morays, etc.

Punta Tunich is mostly "scrub" reef, with small formations of lettuce-leaf coral, tiny gorgonians, and massive sponges. Many of the sponges reminded me of giant clams.

During our safety stop, we got to watch a turtle dive & ascend repeatedly.
Dive #7: Punta Sur Sur — Generally fun dive. Lots & lots of swimthroughs, and more sea fans than I have ever seen in one place. The sea fans pretty much covered most of the terrain. Fish life was plentiful, including several saucereye porgies, a large school of small horse-eye jacks, more grouper, lots of solitary ocean triggers, and a blacktip shark at the end of the dive, way below us, cruising the sand. The only down sides to this dive were the length (i.e. "short") and the lack of stuff to see at the end of the dive (mid-water hangs 60 feet off the bottom are no fun).

A tank popped loose from its bracket on the way to the dive site, fell over, and whacked me on the big toe of my left foot. It left a really nasty bleeding gouge where it hit. The "fun" never stops on this dive trip!

Dive #8: Punta Francesa — What an awesome dive! Plenty long, with plenty of stuff to see. Jorge led us on a hunt for pipehorses (I brought the 105mm lens for that purpose), and we found plenty. I even managed to find on on my own. :) It turns out that they live mostly in current-free areas in swimthroughs, in the shade. So we spent the whole dive crawling through very small tunnels, keeping an eye to the shadows.

The first score revealed 2 PHs, including a pregnant one. The scond trove turned up 3 (1 pregnant) plus a pipefish, and the last jackpot delivered 2 more PHs, another pregnant. I also nabbed a slender filefish (yes!), a tobaccofish, a barred hamelt, and more. A turtle dropped in at the end of the dive.

By far the funniest sight of the trip was a coney with a goby sticking half out of its mouth, a reluctant and wriggling meal.


A small pipehorse at Punta Francesa


A pregnant pipehose (look for the bulge mid-body).


After three years of trying, a successful slender filefish portrait!

A Painted Elysium sea slug at Yucab
Dive #9: Maracaibo Shallow — First time at Maracaibo; fun dive. The shallows are mostly hardpan with "garden" coral, lots & lots of sea plumes. Not a whole lot of terrain, though, and the depth makes for a short dive followed by a long mid-water hang. All things considered, I'd skip this dive in favor of a shallower dive site.

The highlight of the dive was a sharptail eel free-swimming in the coral, but my camera's batteries went dead, so I lost the picture.

Dive #10: Yucab — Really fun dive, with plenty to see. Yellowheaded jawfish, juvenile yellowtail damselfish (with yellow tails), juvy rock beauties, banded butterflies, and much more. Jorge found some tiny and very colorful nudibranchs.

All in all, a fine way to say goodbye to Cozumel for this dive trip.
Dive Log Details
| | | | | |
| --- | --- | --- | --- | --- |
| Dive | Site | Depth | Time | Comments |
| 1 | Palancar Bricks | | | |
| 2 | Santa Rosa | | | |
| 3 | Columbia Deep | | | |
| 4 | Paso Del Cedral | | | |
| 5 | Palancar Caves | | | |
| 6 | Punta Tunich | | | |
| 7 | Punta Sur Sur | | | |
| 8 | Punta Francesa | | | |
| 9 | Maracaibo Shallow | | | |
| 10 | Yucab | | | |