October 1998 Cozumel Trip Report
Text and images Copyright (C) 1999 David M. Read

My wife and I, along with two friends, went on a 4-day trip to Cozumel from Friday October 16 to Monday October 19, 1998. This is a report of that trip. All of the images below are hyperlinks. Click on any image to see a larger version.

I have more photos than I can use on this page...So check out the Cozumel Photo Gallery to see the complete set of pictures from the trip!
---
| | |
| --- | --- |
| A sea fan extends into the current at Palancar Caves | Wow. That's the least positive thing I can say about Cozumel and the diving there. It's got everything you'd want: great reefs, good visibility, warm waters, friendly people, and to top it off, reasonable prices. We were just there for a weekend, so I am definitely not the expert on the place, but we're planning to go back as soon as we can, this time for a longer stay. |
We flew in from Houston on FunJet ("FOON-yet", the locals call it), arriving in Cozumel at about 11:30 AM. We picked up our bags, trotted through customs, and met the Lomas representatives outside the airport. They loaded us into Chevy Suburbans, and whisked us off to our hotel, the Reef Club Isla de Cozumel. More on the hotel operation later.
The Dive Operations
Once we checked into the hotel, we met up with the dive shop people at the hotel, namely Sand Dollar Divers. They claimed to have dive boats leaving every hour on the hour, but the truth turned out to be that they had boats leaving three or four times a day, max. We barely snuck in on the "late" boat for that afternoon. We managed two dives that afternoon, then three with them the next day...All of the dives were somewhat mediocre in terms of the DMs and where they took us, although I did think Santa Rosa wall was a great dive. Generally, though, we were somewhat dissatisfied with the dive operation. The DMs were terrible at finding interesting things, and made sure to get us out of the water and back on the boats on their schedule, not ours. In general, I prefer not to dive with DMs, but if I have to dive with a DM, I want that DM to be someone who can find interesting critters to see, and one who understands that I expect to stay in the water for as long as my air and no-deco time will allow. Sand Dollar's DMs do not fit that description.
The last straw with Sand Dollar was when they refused to commit to a night dive on Saturday. Furthermore, they refused to commit to diving any part of Palancar on Sunday, and one member of our group had made it his personal mission to dive Palancar on that trip. As a result of these refusals, we decided to find another dive shop with which to do our last few dives. We called Aldora Divers because some of the people in our group had had good experiences with them in the past.
Aldora instantly agreed to a night dive for that night (Saturday), and said that if Palancar is where we wanted to go on Sunday, then Palancar is where we would go. We drove into town because Aldora needed to modify our regulators to accept the DIN fittings their tanks use. We dropped off our regulators, and proceeded to wander around town for a little while. We met back with Aldora a couple of hours later, and they graciously agreed to take us back to the hotel on one of their boats, and then wait at the hotel dock long enough for us to get the rest of our dive gear. I'll cover the dives later, but they were, as a group, fantastic.
The Hotel
| | |
| --- | --- |
| We stayed at the Reef Club Isla de Cozumel, an all-inclusive resort on the southern end of the island. In general, I don't like all-inclusive operations, but this one was a real eye-opener. The hotel grounds are spotless, beautifully designed, and carefully maintained. The rooms were comfortable and spacious, and my wife loved the heated tiles in the bathroom. Finally, what made the difference for me was the availability of food, the quality of the food, and the pleasant & speedy staff. | The inviting, refreshing pool in the center of the hotel grounds. |
They served meals three times a day, for about two hours each time. Breakfast included all the American favorites (cereal, pancakes, scrambled eggs, etc.), along with fabulous local specialties like a mild carne guisada (meat stew), fried bananas, and breakfast beans. Fresh juices and milk were plentiful. Lunch had more robust fare, ranging from chile rellenos and roast beef to barbecued chicken and fried potatoes. Dinners were even more elaborate. The hotel also has a fancier restaurant on site, which is included in the price, but which requires reservations. We ate there two nights, and were only slightly disappointed to discover the same "Italian Night" menu on both nights. If you want variety, it seems, stick to the main dining room. If you want higher cuisine, though, the specialty restaurant was great.
It seemed like most of the guests at the hotel were not divers, as there was plenty of drinking going on, and people were always playing in the pools. As for us, we were either diving, eating, or sleeping. Normally we don't drink at all until the last day of a vacation, but since "all inclusive" includes booze, we found ourselves unable to resist the "free" drinks which were always available. We limited ourselves to one or two a night, usually right before dinner, but the wonderful coladas and daiquiries the bar served up were always calling to us.
The Island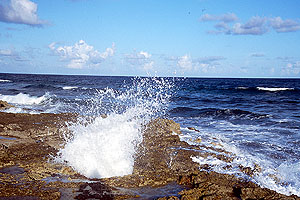 We love the island. We've been to a couple of places where the scenery above ground doesn't even remotely compare to the scenery below the water. Cozumel is not one of those places. We weren't there long enough to explore much, but we liked what we saw. The town of San Miguel is quite picturesque, at least when the cruise ships are not in port. The south end of the island is rugged, windswept, and beautiful. we're looking forward to going back for a longer stay so we can do more exploration.
The People

Well, this should probably read "our group." We went on this trip with Scott & Lisa Garanflo, who we know because Scott went through the SSI DiveCon (i.e. divemaster) course with me. We do as much diving as a group as we can manage.

The Party of the First Part


This is us (Annemarie and Dave)

The Party of the Second Part


This is "them" (Scott and Lisa)
Dive Log Excerpts:
| | |
| --- | --- |
| A purple ball anemone nestled into the reef | Dive #1: Chankanaab Reef. Our first dive in Cozumel, with nothing of the current we had expected. Plenty of fish, including the largest green moray I've ever seen. It was at least 10" in diameter. We saw some huge lobsters and large crabs. Overall, the reef was basically trashed. Lots of algae over-growing everything, and way too much dead coral to make me happy. |
Dive #2: Yucab Reef. Much better dive. Stronger currents made it interesting, but they also cleared up the visibility somewhat. We saw our first two splendid toadfish (wouldn't you know it, I had the wide-angle lens mounted!), 3 queen triggerfish, a zillion bluestriped grunts, a couple of porkfish, a giant black grouper which changed color while I watched, and a large permit. More morays, too, including a goldentail moray.

Dive #3: Santa Rosa Wall. Cool dive. The wall is steep, but not vertical. We had a breezy 1.5-knot current, which made for an easy trip. The swim-throughs at the end of the dive were great. Santa Rosa is a wide-angle sort of dive site, for sure! Too bad I had the macro lens mounted...


Anne sidles up to a school of bluestriped grunts


An arrow crab rests in an azure vase sponge, along with a sea pearl.

A juvenile yellowtail damselfish pauses long just enough for me to trigger the shutter.


I thought this sargassum triggerfish was a black durgon...until I saw the processed slide!

Dive #4: Punta Tunich. I GOT ONE!!! After 3+ years of diving, I finally got a decent photograph of a juvenile yellowtail damselfish, my favorite fish in the sea. Side-on profile, classic fish portrait material, and I was so excited underwater that I couldn't wait to get back to the surface to have the film processed. The other good fish portrait from this dive was a very cooperative black durgon, which stood stock-still while I framed up the shot and pressed the button. I was somewhat confused by the durgon's purple-blue color... until I saw the processed slide. It turns out that my "black durgon" was really a sargassum triggerfish, the first (and only) one I had ever seen! I don't know how I could have made that mistake under water, but I did. Had I known it was a sargassum triggerfish, I would have stayed to get a few more photos of it!

Dive #5: Cardona Reef. Dull dive, right off the beach from the hotel. There wasn't much to photograph, and the stupid divemaster decided to swim us up-current rather than continue drifting past the end of the patch. Ugh. I think he wanted to get out of the water, and knew that swimming us up-current would use up our air faster.
Dive #6: Paso de Cedral. What a dive! After two days of visiting reefs within eyesight of the hotel while following idiot DMs, Aldora took us to Paso de Cedral for a night dive, and Oracio showed us exactly what divemastering is all about. We drifted in the blazing 3.5-knot current for an hour, while Oracio found lobsters, shrimp, crabs, puffers, morays, brittle stars, trunkfish, you name it. About the only thing we didn't see was an octopus.
Dive #7: Palancar Caves. Palancar Caves is an awesome dive site, and Oracio is an awesome divemaster. The dive started in shallow water, swimming deeper through sand chutes. The wall was completely vertical, and covered with soft coral, gorgonian fans, sponges, and all sorts of other goodies. There were lots of swim-throughs and sand chutes, big fish, small fish, and plenty to see. Oracio found a pipefish (our first) in of the sand chutes! Very small, skinny, with red bands. The pipefish was an amazing sight, really.
| | |
| --- | --- |
| Dive #8: Punta Francesa. Oh, my god. Oracio found 3 different pipehorses for us, again a first. I don't know how he finds them, as they look just like little scraps of algae drifting near the ground. We saw so much that I can't possibly remember it all. While Oracio was hunting for pipehorses, a giant (4 foot) black grouper swam right up to us, as if to check out what was so exciting. We also saw a stingray in the sand flats while swimming back to shallow water for our safety stop. | A pipehorse near the algae in which it lives. |
| | |
| --- | --- |
| Another pipehorse clings to its holdfast. | Oracio's hand shows just how small the pipehorse is. |
Dive Log Details:
| | | | | |
| --- | --- | --- | --- | --- |
| Dive # | Location | Depth | Time | Comments |
| 1 | Chankanaab | 50 | 0:48 | Little current, lots of fish |
| 2 | Yucab | 45 | 0:45 | Stronger current, 2 toadfish, 3 queen triggers |
| 3 | Santa Rosa | 78 | 0:38 | Great wall, great swim-throughs |
| 4 | Punta Tunich | 56 | 0:52 | Juvy yellowtail damselfish, my trophy shot from this trip. |
| 5 | Cardona | 35 | 1:00 | Relatively dull dive. |
| 6 | Paso de Cedral | 57 | 1:00 | Night dive! Blazing 3+ knot current, lots to see. |
| 7 | Palancar Caves | 122 | 1:06 | Awesome dive site, complete with pipefish. |
| 8 | Punta Francesa | 75 | 1:15 | Pipehorses, groupers, stingrays, great dive. |
---
Last Modified March 3, 2000